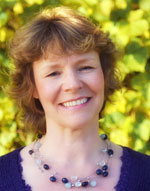 My clinical experience in the field of mental health extends for nearly 40 years. I started working in the NHS mental health services in 1980, first on the mainland, and then on the Isle of Wight. My background health profession was as an Occupational Therapist. I began my first psychotherapy training in psychodrama in 1985. Following a further rigorous training, I qualified as a psychoanalytic psychotherapist with AGIP (Association for Group and Individual Psychotherapy) in London in 2001. I have since undertaken further study in couple work at the Tavistock Centre for Couple Relations.
I have had a private practice since 1998. I now work privately full time, having left my post as Principal Adult Psychotherapist in the NHS mental health services, where I worked with individuals, groups and couples. I provided supervision, consultation, and reflective practice sessions for colleagues working in mental health, and case-based discussion groups for GP's and psychiatrists in training. I also worked in the Pain Clinic, helping people manage chronic pain conditions.
I keep up to date with new developments by attending regular lectures, seminars, conferences and courses. As is standard practice, I undertake regular supervision of my work with a senior psychotherapist on the mainland, who is also bound by strict rules of confidentiality [see below].
I am registered with the UKCP (UK Council for Psychotherapy), which holds the national register of psychotherapists. This is my professional registering body. I abide by their code of ethics.
I am also a member of the: